Venue: Palais du grand Large
| | |
| --- | --- |
| The QEST'08 Conference will be located at the Palais du grand Large . | |
| A panoramic view of the conference room, Maupertuis Amphitheater | |
| A view of the lunch area. A very nice view just over the beach and on the old town of Saint Malo | |
| A view of the coffee break area, actually in the same place. | |
| Where is the Palais du Grand Large exactly? See googlemap | Agrandir le plan |
The town of St Malo
Saint Malo
is one of the most beautiful town of Brittany. Here are few pictures for information.
Brittany
Brittany is a large peninsula "on the edge of the world" as people used to say, in the northwest of France, lying between the English Channel to the north and the Atlantic Ocean to the south. Brittany is one of France's most rugged regions with hundreds of bays, inlets and islands. It is said that Brittany is a fascinating mix of spectacular coastline known as the "Emerald coast", ancient beautiful towns, historic fishing villages, magical islands and inland woods.
Brittany is one of the six Celtic Nations and used to be a Celtic duchy for more than one thousand years before its annexation to France in 1532. It is a fascinating land rich in culture, tradition and history with a strong regional identity that has been forming during centuries of relative isolation. Brittany is a region proud of its roots and has successfully retained its customs and traditions.
More about Brittany at:
http://www.discoverbrittany.com/
http://www.brittanytourism.com/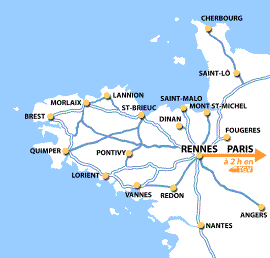 © Office de Tourisme de Rennes Métropole
Scheduled social events
We will have the following social events:
A welcome reception at the Palais du Grand Large (conference venue) on Sunday evening, with a great sea and old town view.
A cheese and wine party at the Palais du Grand Large (conference venue) on Monday evening.
A visit of world-famous Mont Saint Michel on Tuesday afternoon (the (by-far) most visited site in France).
A banquet in front of the Mont Saint Michel on Tuesday evening.